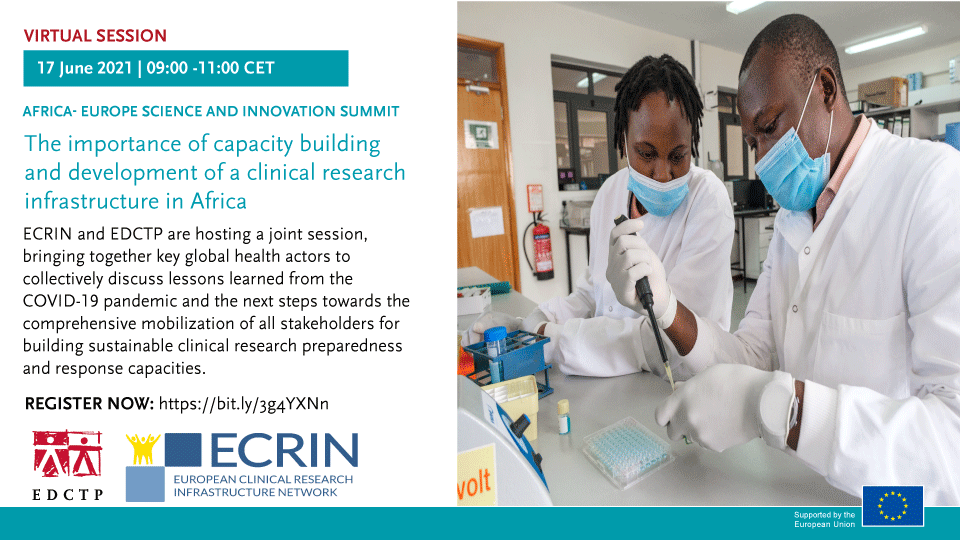 The European Clinical Research Infrastructure Network (ECRIN) and the European & Developing Countries Clinical Trials Partnership  (EDCTP) are co-hosting a session on The importance of capacity building and development of a clinical research infrastructure in Africa at the Africa-Europe Science and Innovation Summit on June 17th. This session brings together key global health actors to collectively discuss lessons learned from the COVID-19 pandemic and the next steps towards the comprehensive mobilization of all stakeholders for building sustainable clinical research preparedness and response capacities.
Establishing a robust clinical research infrastructure is a highly important development step to address region-specific health challenges faced within particular health systems. The COVID-19 crisis starkly revealed gaps in global preparedness and accelerated concerted international collaboration at all levels. Governments should capitalize on the momentum from the response to COVID-19 to coordinate efforts by all stakeholders, including private actors as well as development banks, and provide sustainable governance and funding mechanisms for tackling global health challenges.
The objective of the session from 9-11 AM CEST is to explore how development funds dedicated to the establishment of clinical research infrastructure and capacity building activities could have a greater impact on the health and wellbeing of African citizens and on the African economy. The issues that will be addressed include:
clinical research networks and the conduct of multinational trials in Africa,
the challenges and achievements in the African countries with their heterogeneous health systems,
considerations for the improvement of research infrastructures and the impact on policy,
the impact of participating in global initiatives on capacity building,
the regulatory review of clinical trial applications in Africa for epidemics,
the funding priorities for clinical research infrastructure,
and synergies with Europe.
Registration is open and free. For more details on this session or how to join visit AERAP science website
Speakers and participation
The session will be chaired by Marcel Tanner, High Representative for Europe, EDCTP, and Rhoda Wanyenze, Professor and Dean, School of Public Health, College of Health Sciences, Makerere University.
Speakers and panelists:
Michael Makanga, European & Developing Clinical Trials Partnership (EDCTP)
Jacques Demotes, European Clinical Research Infrastructure Network (ECRIN)
Souleymane Mboup, Institut de Recherche en Santé, de Surveillance Epidémiologique et de Formation (IRESSEF)
Nathalie Strub-Wourgaft, Drugs for Neglected Diseases initiative (DNDi)
Dermot Maher, TDR, the Special Programme for Research and Training in Tropical Diseases
Jeffrey Mphahlele, South African Medical Research Council (SAMRC)
Dicky Akanmori, African Vaccine Regulatory Forum (AVAREF)
This is an open event, and we encourage researchers and all other interested stakeholders interested in this topic to participate.